The "Qinxing Business News", which is very popular magazine in the musical instrumental industry, issued a serious reminder: In the current market, the musical instrument industry will face an unprecedented crisis. Also, under the inflation, consumers will also tighten their wallets. It is very important for the violin stores and shops to find a good brand or a new profit point...
This remark is by no means appalling, but a concern and responsibility after a serious review of the musical instrument market!
At present, there are more than 5,000 violin suppliers in China, and more than 25,000 violin stores and shops. Together with a lot of art training centers and schools of various sizes, there are no less than 200,000 violin stores and shops. Besides, there is also a large teaching teams also selling violins when they are teaching, they also formed millions of violin stores and shops. Facing so many peers, how to be a unique violin store or violin shop? How to make profit effectively? How to develop you violin stores and shop for a really long time?
The Success of Running A Profitable Violin Store And Shop Lies in The Innovation
Violin stores and shops are generally having the same characteristics: strong product homogeneity and small differences. Thousands of violin stores and shops are selling almost same range of violin products. Customers can even meet two violin stores and shops selling same violin products, just the decoration styles of the vionlin stores and shops are different. This is also the source of vicious competition. As a platform for selling violin products, the innovation of violin products plays a key role in the operation of violin stores and shops. The innovation can help owners of violin stores and shops quickly turning around the business situation.
Successful Cases of Selling Innovative Appearance Violin Products
The Dayin violin shop in Huludao, in the northeast of China, is a newly-established violin shop with a high violin product positioning. The owner, Mr. Zhang Yidong, paid great attention to the positioning and innovation of the violin shop products at the beginning of the business. The products of this violin shop are mainly stringed instruments, especially violins. After making researches of so many violin shops, violin lovers, teachers and students, he chose Kinglos innovative appearance vionlins with performance/decoration dual-purpose. His reason is very simple. He said: When choosing a violin product to sell, it is necessary to select violins that have its own characteristics. Through various surveys, I learned that this innovative appearance vionlin product is a patented. It has been very popular in the overseas market. What's more, this innovative appearance vionlin product is novel and unique in China, which means it is a good opportunity to violin stores and shops. Especially the violind with cartoon pattern, they are the most favourite ones among the children who are beginners to learn violins. Kinglos violins greatly improved the children's interest in learning muscial instruments, and is loved by teachers, parents and children.
Dongle Music Store in Wuhan, has worked hard in selling violins for 8 years, but its buiness is always lukewarm, unable to make a lot of money, nor starving to death. The owner, Jin Ping, has the idea of closing the door for many times. It was also an accidental chance that he saw Kinglos innovative appearance vionlin product with performance/decorative dual-purpose at the 2011 Shanghai International Musical Instrument Exhibition. Its beautiful appearance, professional timbre and sound quality, and good after-sales service immediately attracted him. He ordered 20 violin samples on the spot and went back to make test sales. As a result, 20 violin samples were sold out in less than 10 days. The second time, he placed an order for 100 violins, and developed his second-level agent in the county city. After a month and a half, he began to replenish this innovative appearance vionlin products again. Just by selling Kinglos innovative appearance vionlin products for playing/decoration, he made money about 30,000 yuan per month. He has tasted the sweetness of success, and said: "The charm of innovative violin products is immediate to see."
So far, many violin stores and shops in Zhuhai and Shantou in Guangdong, Qingdao and Jinan in Shandong, have felt the charm and market value of this personalized innovative violin product.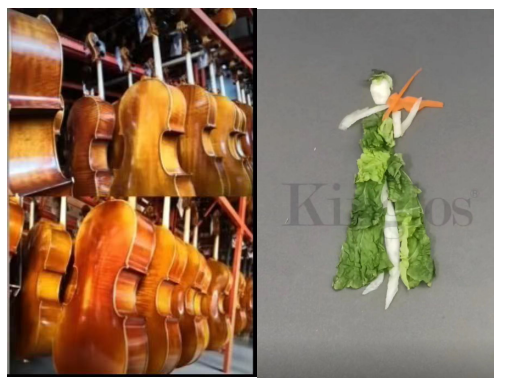 Why Kinglos Violins Can Help Violin Stores And Business Make More Money?
In order to know more about Kinglos dual-purpose innovative appearance vionlin for sale and recommend this popular products to more violin stores and shops, a reporter visited the Kinglos Headquarters, located on Fuzhou Road, a famous cultural street in Shanghai. The following are what we said at that time:
Kinglos dual-purpose innovative appearance vionlin products has improved the paint technology of violin, and changed the violin from a single brown color to a variety of colors to meet the preferences of different consumers, with elegant and dazzling colors. Colorful, cool, black and white, there are also cartoon series that children like. Also, Kinglos sells different kinds of violins including electric violin, acoustic violin, violin cases and bows. The biggest breakthrough of this violin product is that the coloring technology is based on the positioning of color dots and wood dots, which fully guarantees the sound quality of the violin. Kinglos dual-purpose innovative appearance vionlin products are different from the monochrome paint violin that without vibration and resonance on the market.
As an innovatiion-driven violin manufacturer, the Kinglos founder said that we have the responsibility and obligation to provide fresh, potential, healthy, and profitable violinproducts for the terminal selling points, becuase the sustainable development of violin making manufacturers cannot do finish itself without the cooperation of terminal sales selling platform. At the same time, it is necessary for violin stores and shops to support violin making manufacturers. The two sides can coexist and win.
In terms of violin market layout, Kinglos once developed its overseas market in the past, now we are gradually increase more sales shares in China. We are trying to turn our marketing model to cultural marketing, help violin stores and shop to maximize their advantages and increase marketing effects. To develop agents or distributors with good local resource relations actually does not require them to have large business scales and financial resources, but requires the them to have entrepreneurial spirit and innovative ideas.
Product innovation is the key to the success of any business. The best strategy for a vioin business is to update and improve its own products. The significance of innovation lies in being advanced and predominant. Once new vio products and new business opportunities are discovered, you must seize the opportunity in time.